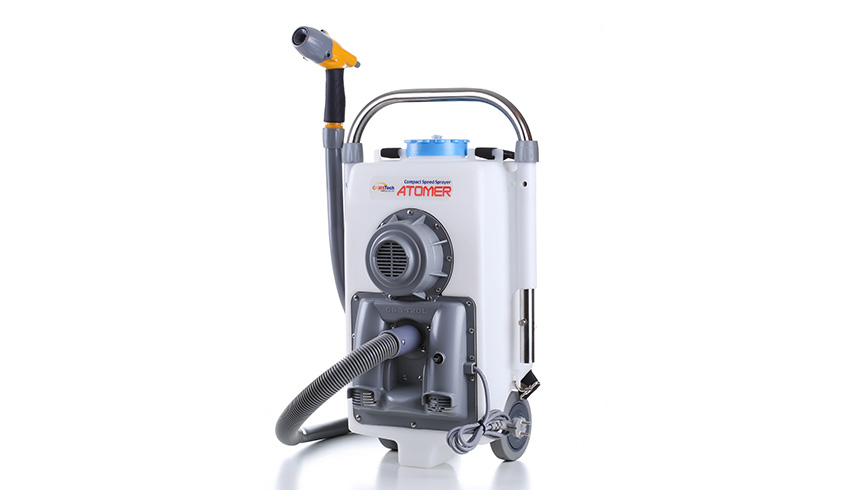 Electric Ultra Low Volume Sprayer ATOMER
Ⅰ
(RA20KS)
Consumption of solution is minimized while pest or diseases control effect is maximized due to the spray system of the ultra-fine particles.
According to working surroundings, the way of working is can be chosen such as knapsack or cart type
Gun type sprayer,
equipped with high speed rotary atomizer,
is accepted. It makes
Lower working weight
Foliage spray
Maximized pest control effect
Reduction of chemical cost
Selective way of working
According to working surroundings, the way of working is can be chosen such as knapsack or cart type.
It makes sure comfortable and fast works.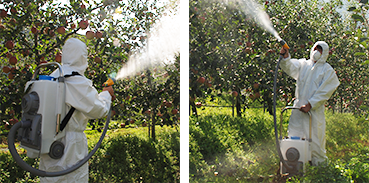 Features
Comfortable work and foliage spray by gun type spray nozzle.
High speed rotary atomizer with powerful electric motor.
Minimized cost by ultra fine droplets of chemical.
Maximized work effect by long floating time of chemical.
Applications

Pest and disease control of greenhouse, pen, building, office, restaurant, public restroom and hospital etc.
Specifications
MODEL

ATOMER

Ⅰ

(RA20KS)
Rated Voltage

220V-60Hz
Rated Current

1.4kw
Dispensing Capacity

20L
Discharge Rate

1.2L/min
Droplet size

20~50㎛
Dimensions

380×260×560mm
Dry Weight

7.5 kg
Cord Length

1.2m